When you take horseback riding lessons, you want to feel comfortable and safe. That's why it's important to choose the right clothing and equipment. These include a proper helmet, breeches, gloves, boots, etc. In this guide, we will explain what you need to wear and bring with you to your first lessons. Whether you're a beginner or an experienced rider, read on for information on what to wear for horseback riding.
Top 7 Things to Wear for Horseback Riding Lessons
1. Riding Helmet
A riding helmet is the most important piece of safety gear that you can wear. It protects your head in case of a fall or accident. Make sure to buy a helmet that fits well and is approved by ASTM, SEI, or SNELL.
Check if the helmet comes with a solid shell and a comfortable headband. The chin strap should be adjustable so that you can get the perfect fit.
When buying horse riding apparel for adults or children, make sure to buy a helmet that fits well. For example, some helmets are made specifically for adults. While others are designed as helmets for kids. Consider your horseback riding needs when choosing which style is right for you.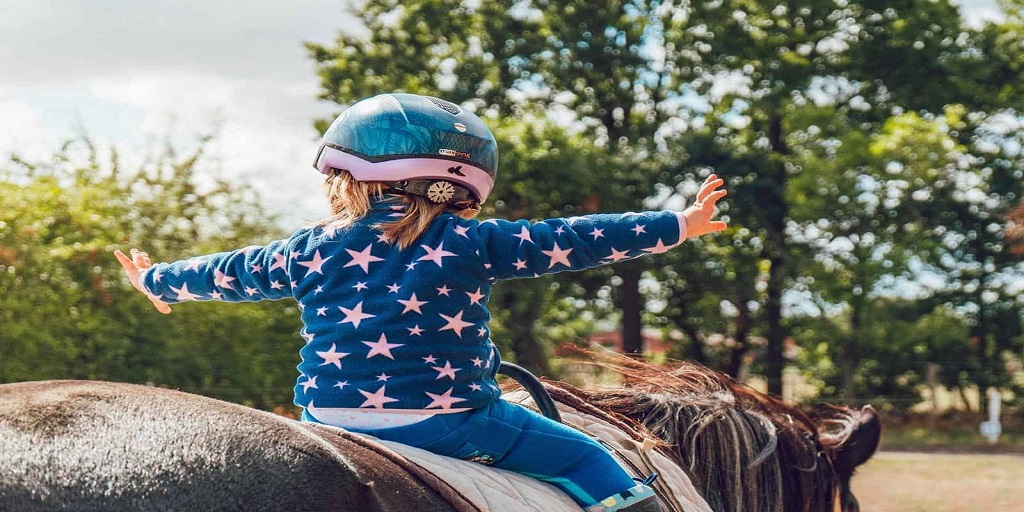 If possible, try out different brands before purchasing one. So you can find what works best with each rider and horse combination.
2. Breeches
Breeches are pants made specifically for horseback riding. They fit snugly and provide protection from saddle rubs and other injuries. There are many different styles and colors to choose from, so pick the ones that suit your personality and taste.
Most breeches are made from breathable materials like cotton or linen. This ensures that you stay cool and comfortable during your ride.
Some riders also choose to wear jodhpurs, which are a type of breeches that have a snugger fit and come in different styles as well. Jodhpurs are often made from leather. This makes them more durable than other types of breeches.
If you're just starting out horseback riding, it might be best to stick with regular pants until you get used to the sport. You can always upgrade to breeches once you've become more experienced.
When choosing horseback riding apparel, it's important to consider the climate where you live. If you live in a warm area, then cotton or linen breeches might be a good choice. If you live in a colder climate, then riding apparel made from wool or fleece is the best.
3. Gloves
Gloves protect your hands from blisters, rope burns, and other injuries. They also help keep your hands warm on cold days. Choose gloves made from durable materials like leather or suede. In warmer seasons, consider horse riding gloves made from cotton, which allow more airflow.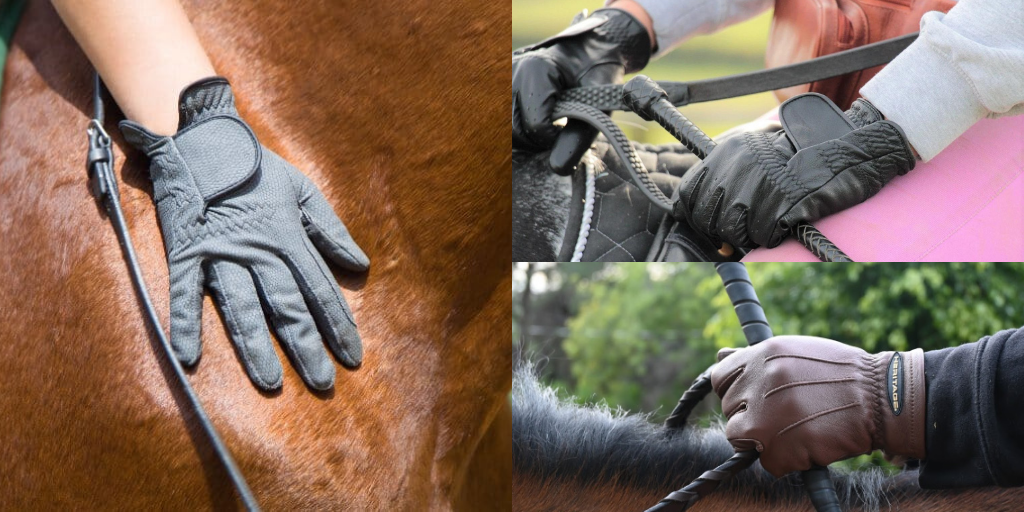 It's important to find horseback riding gloves that fit you properly. Handwears that are too tight can restrict blood flow. This may cause your hands to become numb or tingly. Gloves that are too loose won't protect your hands as well against rope burns and blisters. Make sure the gloves fit snugly on your hand but don't constrict circulation.
If possible, try them out prior to buying so you know what size is right for you. It is definitely an essential item to wear for horseback riding.
4. Safety Vest
A safety vest is a horseback riding accessory that you should never leave home without. It's important to wear a horseback riding vest whenever you ride or handle horses. Even if they're calm and docile. A horse can spook at any moment, buck unexpectedly, or run away with you on its back.
Horseback riding vests are designed for comfort as well as safety. Some horse vests have pockets for carrying your horse treats. You can put there a hoof pick and brush.
5. Riding Boots
There are English and Western riding boots. English riding boots have a sleek, elegant look. They're made of smooth leather and have a low heel. Western riding boots are taller and more rugged-looking. They're made of cowhide with a higher heel.
Both types of horseback riding boots protect your feet and ankles from getting injured if you fall off the horse. They also provide grip when you ride. You don't want to wear running shoes or sandals while horseback riding. Because they won't offer enough protection or grip.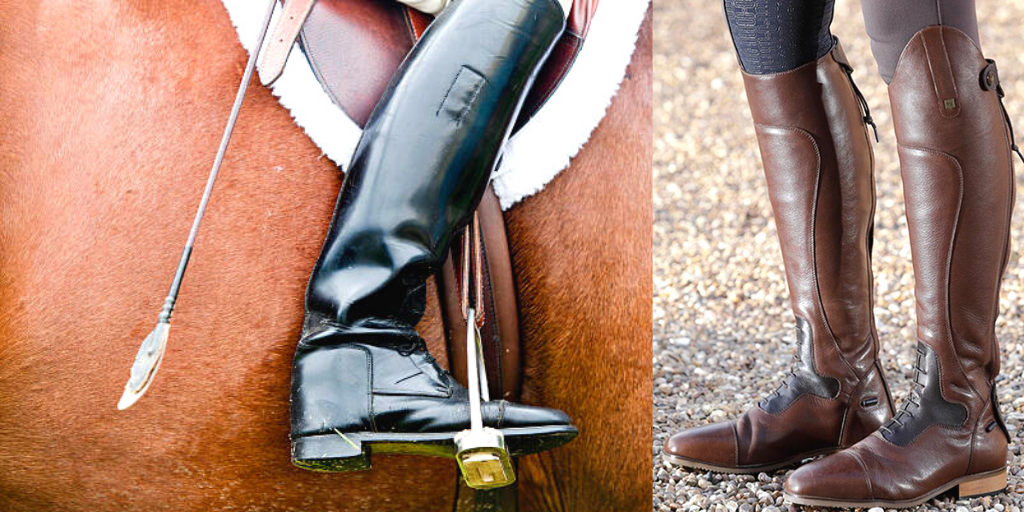 If you're just starting out horseback riding, it's best to buy beginner horseback riding boots. These are less expensive than advanced horseback riding boots but still provide good protection for your feet and ankles.
When choosing horseback riding boots, make sure they fit well. You don't want them to be too tight or too loose. If you're not sure what type of horseback riding boots to buy, ask your horseback riding instructor for advice. They'll likely have a good idea of the types of horseback riding boots that will work best for you.
6. Saddle
You'll likely need your own saddle for your horseback riding lessons. Your horseback riding instructor may be able to let you borrow one for a few lessons. But it's best to have your own saddle so you can practice at home.
When choosing a saddle, make sure it fits both your horse and you properly. A saddle that is too small or too big will not be comfortable for either of you. Talk to your horseback riding instructor if you're not sure which type of saddle to buy.
Horse saddles come in different styles, including:
English dressage saddles;
Western saddles;
General-purpose horseback riding saddle.
You should also get some horse saddle pads or blankets with any new or used equestrian equipment you buy. The pads will protect your horse from sores and blisters. They may be caused by the rubbing of the girth against their flesh. When they are moving around at high speeds. They can also be caused by horseback riding in the wrong saddle or horseback riding with a too-tight girth. You can purchase horse blankets at equestrian shops, horse tack stores, and even online horse supply sites.
7. Bridle and Reins
Horse bridles come in many different styles. You can purchase a bridle made from leather, nylon, or other materials. You will also need to buy reins to go with your bridle. The type of rein you choose depends on the discipline of horseback riding you are doing. There are three main types of horse reins:
English horse reins;
Western horse reins;
General-purpose horse reins.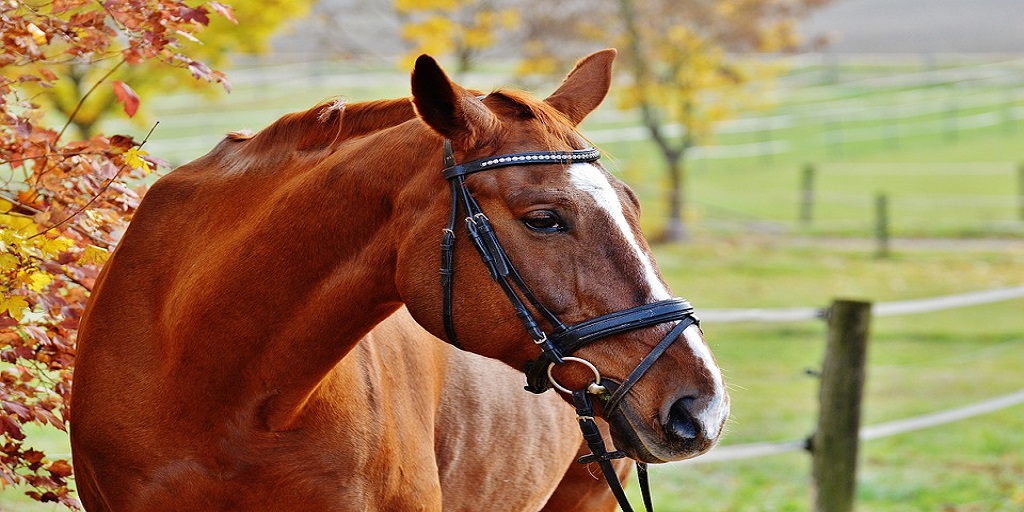 Each type has its own unique features and benefits. Make sure you select the right set of reins for your needs. Horse tack stores and online sites typically carry a variety of rein styles and brands.
Conclusion
Consider this list of riding apparel and horse tack before attending your first riding lesson. Having the right equipment will make your experience much more enjoyable, comfortable, and safe. Some horseback riding disciplines may require you to wear certain attire or use certain horse tack. You'll be provided with a companion that was adopted or bred on the farm.
If you are unsure of what is required for your lesson, contact the instructor a few days before your lesson. So they can tell you what to bring with you on the day of your appointment.