Cavapoos are a naturally lively and energetic breed of dogs. They have a knack for playfulness and a cross between the Cavalier King Charles Spaniel and Poodle dog breeds. They are cute, small dogs that can sometimes make their owners allergic and require special care and attention. So before you opt to adopt them or look for cavapoo rescues for adoption, do proper research of the resources you may need and ponder over whether or not you have the time to give to this new commitment.
Decided? Great! Here are a few places you can find Cavapoos, but you would still have to ask around as they come and go, and they may or may not be available given the time of inquiry.
1. ASPCA – Reliable Cavapoo Rescue for Adoption
This is a national, non-government organization that works to keep pets off the street and provide them with good healthcare and give them to willing residents. This organization is one of the oldest entities known to rescue cavapoo and has worked for over a century to prevent cruelty against animals. It is currently based in New York.
Area: New York, NY
Contact: publicinformation@aspca.org
2. Doodle Rescue Collective
Even though this Cavapoo rescue is on the east coast, it has several volunteers throughout the country. Doodle Rescue service or DRC has made a name for itself by working tirelessly to provide all-around pet care services. They have vets, Homes, and Rehabilitation centres for rescued pets.
Mainly, they function as an intermediary to collect dogs from all across the country and send them to different shelters in the US and Canada. This means that they have a great database of dogs, and you can adopt one if you want. This enables the organization to give the dogs healthy homes after being rescued.
Area: Rhode Island
Contact: info@doodlerescuecollectiveinc.org
3. Florida Poodle Rescue – Best Cavapoo Rescue in Florida
This shelter is giving living space to a variety of poodles and different breeds related to those. They work on educating the people on the benefits of having a poodle to endorse adoption. They have an infrastructure to nurture rescued poodles back to health and then give them to homes.
Florida Poodle Rescue also provides a method to pay for more expensive procedures if the new owners cannot bear the expenses to endorse people to adopt without financial concerns.
Area: Petersburg, FL
Contact: info@floridapoodlerescue.org
4. Doodle Dandy Rescue – Good Cavapoo Rescue
This Shelter is one of the biggest ones on this list. They take in all different breeds of doodles and nurture them back to health to become their playful selves. This residence has a few dogs available right now, and some are always coming and going in and out of them. However, they are only limited to Garland- Texas.
Area: Garland, Texas
Contact: doodledandyrescue@gmail.com
5. Poodle Rescue
This is a very reputable institution that nurtures poodles and related breeds a new take on life. They bring in injured or abandoned poodles and cavapoos to health. This rescue functions in Connecticut but also tends to areas all around it. They have given forever homes to a great number of dogs of different breeds. Their client base comes from all surrounding states. They have trained rescuers, especially in the poodle breeds and are experienced in bringing them back to good health.
Area: Naugatuck, Connecticut
Contact: poodlerescuect@yahoo.com
6. MAPR (Mid-Atlantic Poodle Rescue)
MAPS or Mid-Atlantic Poodle rescue is a rescue working across various states such as Maryland and Pennsylvania. They work to find loving homes for rescued dogs and always look for unwanted or abandoned dogs to rescue. Since Poodles are of a very fragile nature, they require special care and nurturing to be able to come to their natural self again.
Moreover, MAPR focuses on providing care specific to Poodles and related breeds so that they are able to take to forever homes in the best versions of themselves.
Area: Rolandvue Rd, Towson, MD
Contact: cindy@midatlanticpoodlerescue.org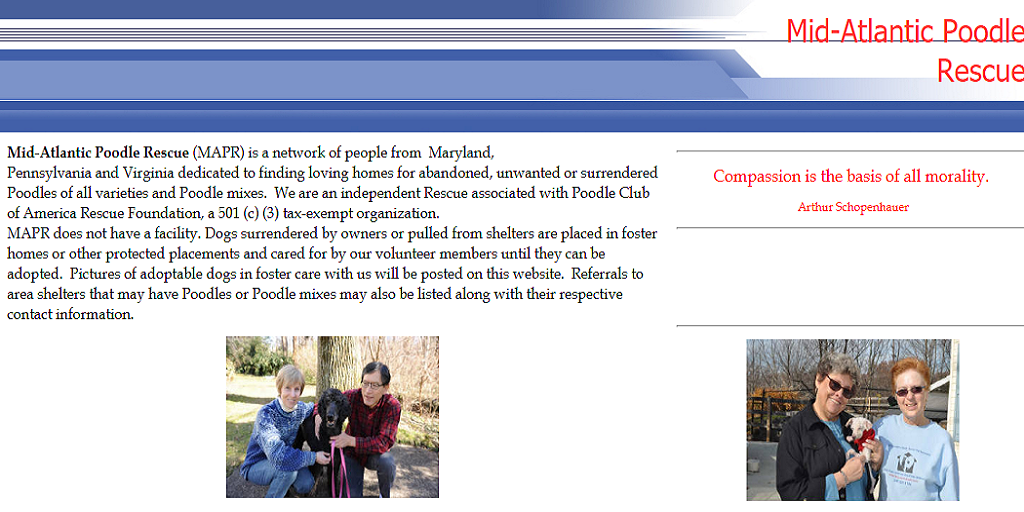 7. Poodles and Pals – Trustworthy Cavapoo Rescue in California
This shelter in the San Diego area has a number of poodles rescued under their belt. They have experienced staff. They are currently a minimal facility with a limited number of employees. However, this does not stop them from rescuing cavapoos and finding them new homes.
They also bring in dogs from other shelters alongside providing homes to dogs from the street. They put in the effort to find the right family, the right dog, as per their behaviour and energy.
Area: Nuevo, California
Contact: info@poodlesandpals.com
8. Doodle Rock Rescue
Due to a rise in Euthanasia cases in Texas, The Doodle Rock Rescue aims to take as many doodles, poodles and all related breeds off the street. There are mostly dogs and cavapoo rescued off the streets or from shelters with high risks of death or spread of Euthanasia. Indeed, it is one of the best cavapoo rescue organizations in Texas.
Area: Dallas, Texas
Contact: information@doodlerockrescue.org
9. Cavalier Crazy Rescue
This dog rescue has been functioning for almost 11 years now and is based in Utah. They nurture dogs back to health, give them necessary vaccination, nutrition, check them for knee and other health problems, and chip them as well. All of their dogs are neutered and ready for adoption.
However, you have to be able to drive to Utah and meet the dog to be able to adopt them. The adoption fee ranges from breed to breed. Some fees range up to Sub $700. They also visit homes within the state of Utah before allowing for adoption. They have all kinds of dogs so you can always check for cavapoos and their availability.
Area: Utah
Contact: cavaliercrazyrescue@gmail.com
10. Lucky Star Cavalier Rescue
This is a volunteer rescue service functioning since 1999 to rescue cavapoo and different other pets. They have a great history of rescuing cavalier and related breeds. They are currently functioning in Florida with a number of Cavalier and related breeds available. This Cavapoo rescue takes special care of all the factors that should be tended to this specific breed so you can be sure that the dog that you adopt has a good health check etc.
They have a mechanism to match each dog with a proper family that has the resources to house the breed and give them the required time and proper attention that cavapoos require.
Area: Florida
Contact: luckystarrescue@gmail.com
11. PetFinder
Even if this is an online resource, it can get you the best dogs available within the areas around you. Petfinder has a number of breeds, locations and buying/adoption options available at your own convenience. This is one of the best places to be able to find Cavapoos across the country.
In Conclusion, these are places that provide you with a good basis to look for Cavapoos across the nation. You will be able to give them a new home to rescue dogs from across the country, so even if you had to drive, it wouldn't be such a bad thing as you would be adopting a rescued dog to give it a new home.