Lee Min Ho is the most renowned Korean actor who is well-known due to his incredible and implausible acting. He acquired a large amount of popularity due to his characters. There are many Korean dramas by Lee Min Ho, and all dramas hit the record. He was born in 1987 and studies at Konkuk University.
He is also much taller than other Korean actors.
Lee Min Ho won many awards, like the SBS Drama Award for Best Couple, the KBS Drama Award for Best Couple, the Paeksang Arts Award for IQIYI Star, the DramaFever Award for Best Actor, the China Fashion Awards for Best Popular Asian Actor, and many others.
He made his debut in the world of television in 2002. In these plays, he is given the role of the minor character. However, then his journey to success started.
Let's talk about the top Korean dramas of Lee Min Ho.
Legend of the Blue Sea
Starring and their characters: Lee Min-ho as Heo Joon Jae, Jun Ji-Hyun as Shim Chung, Won Ho Shin as Tae Oh, Lee Hee-Joon as Jo Nam Doo, and Moon So-ri as Ahn Jin Joo
Genre: Romance, Drama and Love story
Release Date: November 16, 2016
Director: Park Seon-Ho and Jin Hyuk
Legend of the Blue Sea is a hilarious and affectionate Korean drama. In addition, this drama is based on the love story of a mermaid and a witty con artist. A lot of heart-touching scenes have been put in this TV serial.
"The Legend of the Blue Sea" received positive reviews and was popular among viewers, partly due to its well-known lead actors, intriguing plot, and high production values. It is known for its beautiful cinematography and special effects, which bring the underwater scenes and mermaid elements to life.
The King: Eternal Monarch
Starring and their characters: Lee Min-ho as Lee Gon, Kim Go-Eun as Jeong Tae Eul, Kim Kyung-Nam as Kang Shin Jae, Woo Do-Hwan as Jo Yeong, and Jung Eun-Chae as Koo Seo Ryeong
Genre: Action, Thrill, Tragedy, Romance and Fiction
Release Date: June 12, 2020
Director: Baek Sang-hoon, Jung Ji-hyun and Yoo Je-won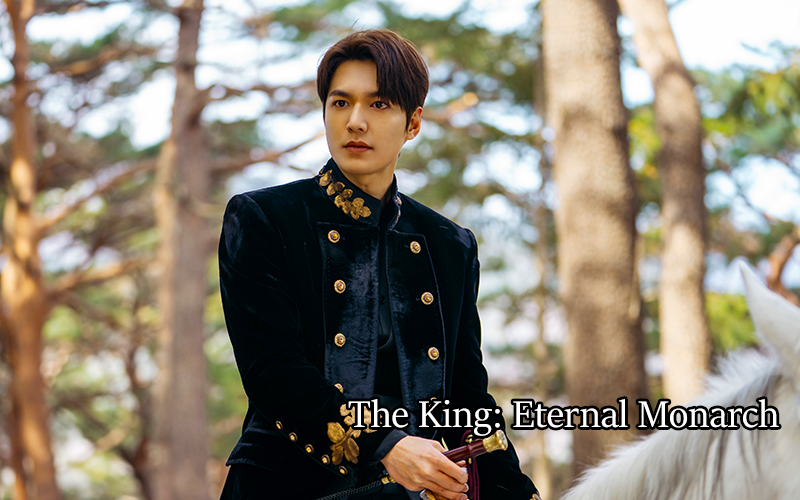 The King: Eternal Monarch is the top Korean drama of Lee Min Ho. Many heart-wrenching scenes can be seen in it. The soundtrack of The King: Eternal Monarch brings tears to the eyes because of its beautiful words. This drama is terrific in every way.
This drama is not based on reality, but this drama is based on a parallel world.
If you enjoy intricate, high-concept romantic dramas with elements of fantasy and parallel universes, "The King: Eternal Monarch" may be worth watching, especially if you're a fan of Lee Min-ho and Kim Go-Eun.
"The King: Eternal Monarch" received a lot of attention due to its star-studded cast and the anticipation surrounding Kim Eun-sook's work. It combined elements of romance, fantasy, and science fiction, and it explored the contrast between a traditional monarchy and a modern democratic society.
Pachinko
Starring and their characters: Lee Min-Ho as Hansu, Soji Arai as Baek Mozasu, Minha Kim as Teen Sunja, Youn Yuh-Jung as Older Sunja, and Kaho Minami as Etsuko
Genre: Fiction and Drama
Release Date: March 25, 2022
Director: Kogonada and Justin Chon
Pachinko is another highly-rated Korean drama by Lee Min Ho. Not only Korean people but also international people started liking it after watching this drama. Pachinko is a novel based on Kdrama.
In addition to its literary acclaim, "Pachinko" has been adapted into a television series produced by Apple TV+, bringing the story to a broader audience.
The novel is an excellent choice for readers interested in historical fiction and stories of immigrant experiences, as it provides a rich and nuanced exploration of the lives of Koreans in Japan throughout several generations.
The title "Pachinko" refers to a famous Japanese pinball-like gambling game, and it becomes a significant part of the story, as it provides employment for many Korean immigrants and is a symbol of both economic opportunity and societal marginalization.
The Heirs
Starring and their characters: Lee Min-Ho as Kim Tan, Kim Ji-won as Rachel Yoo, Park Shin-Hye as Cha Eun Sang, Kim Woo-bin as Choi Young Do and Kim Sung-ryung as Han Ki-ae
Genre: Romance, Comedy, and School-Based Love Story
Release Date: October 9, 2013
Director: Kang Shin-hyo and Boo Sung-Chul
The Heirs is another success of Lee Min Ho. Many other famous stars worked in this drama, and they carried their roles beautifully.
The story of "The Heirs" revolves around the lives and relationships of privileged high school students and their families, who are heirs to vast fortunes. Lee Min-ho plays Kim Tan, the heir to a large conglomerate, who falls in love with Park Shin-hye's character, Cha Eun-sang, a hardworking girl from a modest background.
The drama explores the challenges and conflicts that arise due to social and economic disparities, as well as the dynamics between the various characters.
Boys Over Flowers
Starring and their characters: Ku Hye-Sun as Geum Jan Di, Lee Min-Ho as Goo Joon Pyo, Kim Bum as So Yi Jung, Im Ye-jin as Na Gong Joo, and Lee Hye-Yeong as Kang Hee Soo
Genre: Comedy and Romance
Release Date: January 5, 2009
Director: Jeon Ki-sang
The story revolves around a poor but strong-willed girl named Geum Jan-di, who receives a scholarship to attend an elite high school known for its wealthy and privileged students. This school, Shinhwa High School, is dominated by a group of four rich and handsome boys called the "F4."
The leader of the F4 is Goo Jun-pyo, who becomes intrigued by Jan-di's resilience and courage. Throughout the series, the story explores the relationships, friendships, and conflicts between Jan-di, the F4, and other students. But the rest of the report will be known after watching the drama.
These are some of Lee Min Ho's most notable works. He's known for his charismatic and versatile acting skills, and each of these dramas showcases his talent in different roles and genres.